The Desert Wind was an Amtrak long distance passenger train that ran from 1979 to 1997.
It operated from Chicago to Los Angeles as a section of the California Zephyr,
serving Los Angeles via Salt Lake City and Ogden, Utah and Las Vegas.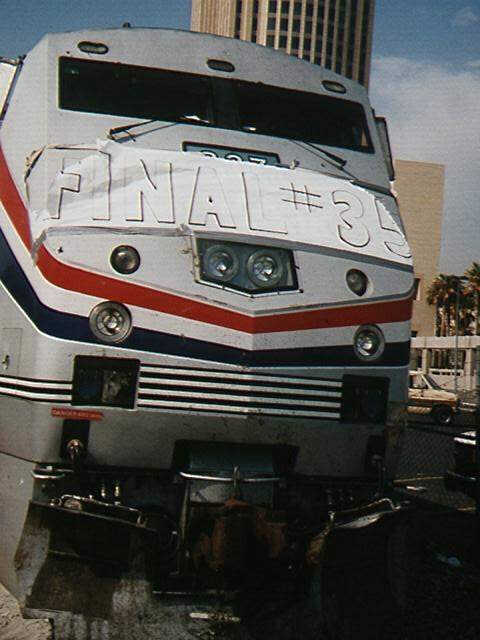 Der letzte Desert Wind AmtrakTrain 1997




Route Guide Desert Wind:
CHICAGO – PRINCETON – GALESBURG – OMAHA – DENVER - WINTER PARK – GRANBY - GLENWOOD SPRINGS - GRAND JUNCTION - SALT LAKE CITY - LAS VEGAS – BARSTOW - SAN BERNARDINO – FULLERTON - LOS ANGELES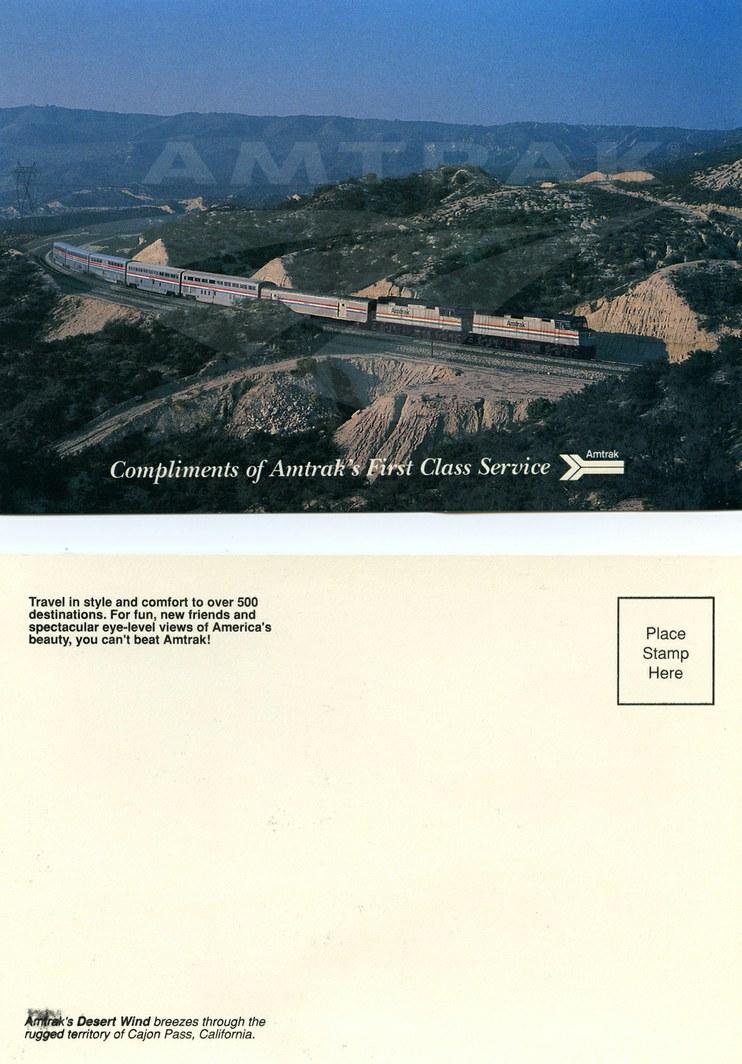 Hier die legendäre Postkarte vom Desert Wind;
die damals auf der Fahrt abgegeben wurde.




The Desert Wind was discontinued on **May 12, 1997,
a victim of Amtrak's reoccurring budget cuts that also eliminated the Pioneer days earlier.
Train service was replaced with a Los Angeles–Las Vegas Thruway Motorcoach service.
At that time, rail service between Los Angeles and Las Vegas took 7 hours, 15 minutes.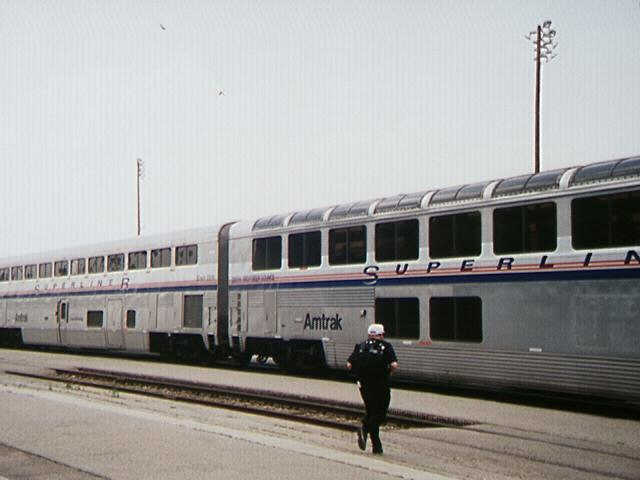 Der letzte Amtrak Desert Wind
steht Abfahrtbereit in Chicago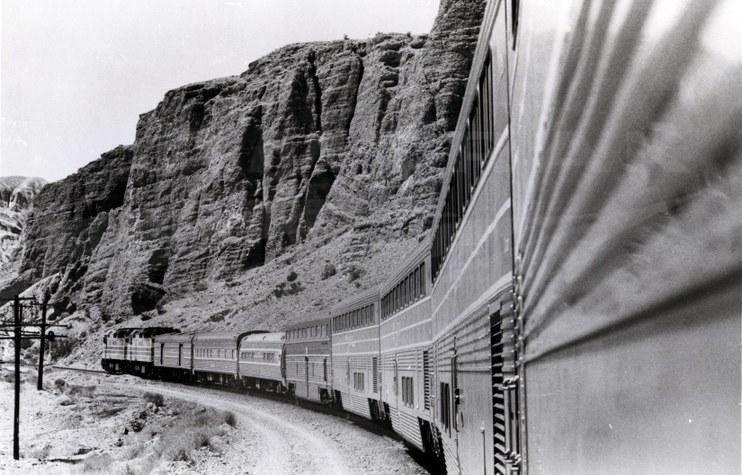 Der Desert Wind im Cajon Canjon 1980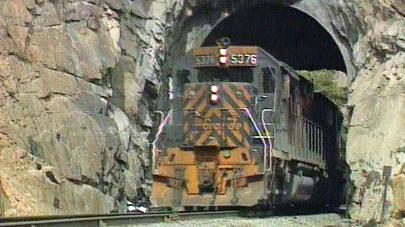 Text von Pit's Desert Wind aus Song Nr. 5 der CD
Lonesome Roads «I still hear the words» :
at the Tunnel twenty six - the rails are nearly straight
the engineer saw the mountain creep to late
Tractors and trailers - crashed into the valley
the battlefield of ninty two - the symbol was very sadly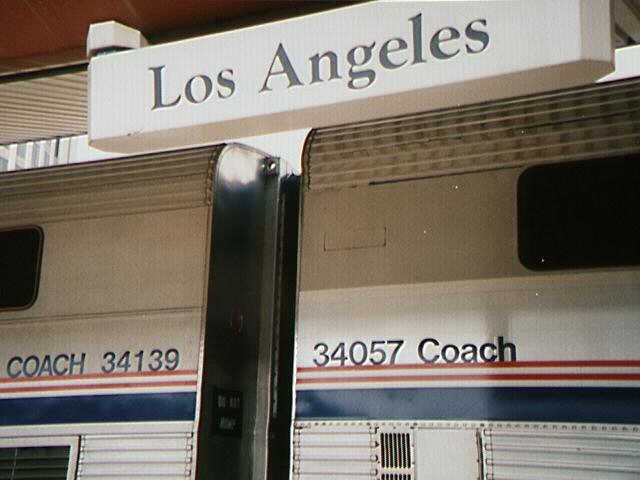 Angekommen in Los Angeles


Amtrak History:

Amtrak did not pick up the City of Los Angeles,
electing instead to keep Santa Fe's Super Chief/El Capitan between Chicago and Los Angeles.

In Amtrak's early years, it offered service between Los Angeles and Las Vegas on four occasions.
None of these trains operated daily and one of them was funded in part by Vegas casinos. Equipment shortages ended some of these services. The last of these, which received funding from the state of Nevada, ended in early August 1976.

Nevada Senator Howard W. Cannon was chairman of the Senate Commerce Committee and a proponent of an Amtrak route restructuring plan proposed in early 1979 by the U.S. Department of Transportation that would have ended the Chicago-Los Angeles Southwest Limited, which used the Santa Fe between its endpoints. Cannon favored a replacement train that would operate between Ogden, Utah, and Los Angeles, connecting in Ogden with the San Francisco Zephyr. The DOT recommendation mirrored the Amtrak operation that would later emerge as the Desert Wind.

The DOT restructuring was only adopted in part and the Southwest Limited escaped unscathed. But given Cannon's position of overseeing Amtrak, the proposed Ogden-Las Vegas-LA train survived and began operations on Oct. 28, 1979, with Amfleet equipment and the Desert Wind name.

The Desert Wind did a good business between Los Angeles and Las Vegas. A secondary market was travelers bound for Salt Lake City area ski resorts. As envisioned, the Desert Wind was scheduled to connect with the San Francisco Zephyr in Ogden but did not offer through cars. During the Las Vegas service stop, some passengers made a quick trip to a nearby casino.
The assignment of Superliner equipment to the Desert Wind on June 30, 1980, made it the second train to permanently receive that equipment and paved the way for Chicago-Los Angeles through cars to be interchanged with the San Francisco Zephyr.

A Chicago-Los Angeles through coach began on Oct. 26, 1980,
followed by a Chicago-Los Angeles sleeper on April 25, 1982.

When Amtrak rerouted Nos. 5 and 6 via the Denver & Rio Grande Western in July 1983 the Desert Wind began interchanging its Chicago-Los Angeles through cars at Salt Lake City and no longer ran to Ogden.
Operation of the Desert Wind was reduced to tri-weekly on February 1, 1995, during an Amtrak budget squeeze. After operation of the California Zephyr was cut to quad-weekly operation on June 11, 1995, the Desert Wind became the Amtrak train operating between Chicago and Salt Lake City on days the California Zephyr did not operate.

The Desert Wind departed Chicago on Monday,
Thursday and Saturday, and arrived in Chicago on Tuesday, Thursday and Saturday.

Amtrak wanted sought to discontinue the Desert Wind in November 1996, citing high operating costs,
little mail and express revenue, and poor prospects for long-term growth and profit potential.

Congress approved enough money to keep the Desert Wind going for six months
while Amtrak negotiated with the states served for funding.

What Amtrak suggested was a Los Angeles-Las Vegas train using
Talgo equipment and funded in part by the state of Nevada.
Talks were also held with private and public partners for funding.

But no agreements were reached and the Desert Wind departed Los Angeles for the last time on **May 8, 1997, and from Chicago two days later.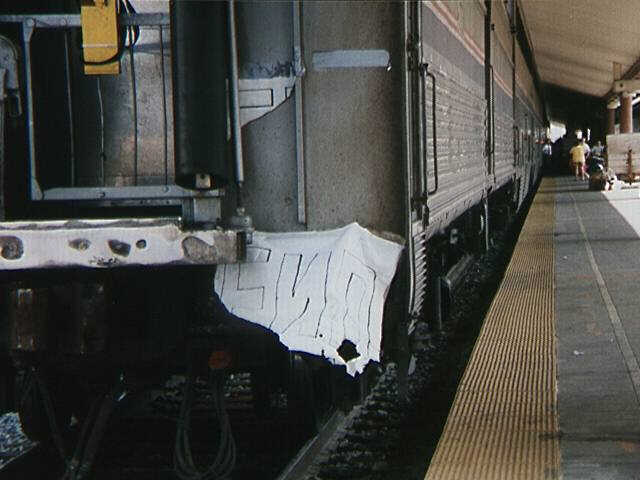 Der letzte Wagen des
Amtrak Desert Wind 1997.

Am Ende des letzten Wagens wurde ein handgeschriebener Zettel hingehängt:
END

** Diverse Quellen nennen unterschiedliche Endzeiten für den Amtrak Desert Wind...…
Diese variieren vom 8. Mai bis zum 12. Mai 1997




Quellen:
https://csanders429.wordpress.com/trains-and-routes/desert-wind/
http://trainweb.com/routes/route_35/tp_35.htm
http://www.trainweb.com/slides/ss35.htm#sthash.od2YVyiy.dpbs


Für die Inhalte der oben aufgeführten Webseiten wird keine Verantwortung übernommen!
No responsibility is assumed for the contents of the above Websites!
Es handelt sich hier um Quellenangaben.